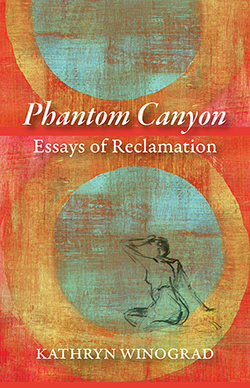 "When I first saw it, when at last the bear of my girlhood unlocked itself from the stone shadows and I could see the fine frosted hairs of its crooked dog legs, I could not leave it."
From forest fires to mountain lions, Ohio farm to Colorado cabin, violation to silence to reclamation, Kathryn Winograd draws keep attention to the details that braid her own history with that of the land on which she dwells, with her husband, daughters–anyone who has experienced loss and fought for renewal. Her collection of lyrical personal essays becomes a ring of concentric circles–one essay builds upon the next to achieve deeper meaning and truth, revealing, at the center, mercy.
Advance Praise for Phantom Canyon:
"Kathryn Winograd's Phantom Canyon is a compelling collection. Here is the lyric essay at its most perceptive and powerful. I admire the insight and intelligence of the essays, the magnetic and masterful drive of the language, and above all the aching honesty that infuses every page."
–Robert Root, author of Happenstance and Postscripts: Retrospections on Time and Place
"In these lyric essays, Kathryn Winograd mines the ore of girl, daughter, mother, wife, and writer, wilding her selves against Colorado's high country. The immediacy and traction Winograd gets by pinning herself to mountain place and women's emotion, whether alive now or in memory, is breathtaking, at times, sublime. What a tough essayist–and tender voice–the West has been waiting for all these years, ever since the ancient ones first arrived."
–Thomas Larson, author of The Sanctuary of Illness, The Saddest Music Ever Written and The Memoir and the Memoirist
"In Phantom Canyon Kathryn Winograd takes her place among America's most celebrated writers—Thoreau and Annie Dillard come immediately to mind—who turn to the violence and beauty of nature to spark deeper understandings of the human community, and of the body and mind. Winograd adds to the mix her own insistence to confront even the most violent personal trauma—her own experience being raped as a child. For Kathryn Winograd the lyrical imagination, spiritual healing, and the love of beauty everywhere around us, come most fully alive only through recognizing also the harsher realities of the human condition. In a 'long bow to the earth and to the fragile self,' Winograd offers us the fullness and frailty of her own life, the natural world and the people she loves."
–Stephen Haven, author of The Last Sacred Place in North America and The River Lock: One Boy's Life along the Mohawk.
"To travel with the narrator across the twenty-three essays of Kathryn Winograd's Phantom Canyon is to travel out of silence. We go with her as she returns to the farm in Ohio to confront the ghosts still swirling in the woods where she was raped as a girl of thirteen, and we return—always—to the sanctuary of the Colorado cabin she and her husband build together alongside Nipple Mountain. Along the way, these wide-ranging essays take us through stud farms and the Navajo Nation, into bathtubs and lion enclosures, down highways and deep into the forest.
Winograd finds the most unlikely containers for the most urgent subjects. How does one reconcile, in the natural world, science and faith? Eyes, mind, and heart wide open, Winograd shows us what she can hold in her hand—shotguns, bird eggs, mushroom spores—and tilts our chins up to study the night sky. Everything is here: botany and astrology, ornithology and ophthalmology, astrology and mythology—deep-digging geology. Everywhere, Winograd drills down, deeper into language, deeper into the earth, deeper into memory and the heart. She finds loneliness, fear, grief, and ultimately—transformation. Forgiveness. Grace.
The very best books invent their own genres and Winograd's Phantom Canyon has done just that. The shimmering syntax, the metaphor, the way the patterned images add up to something that wasn't there before—that's the lyric. But there's also a story here. Phantom Canyon is a page-turner, a collection of lyric essays you won't be able to put down. As a writer, teacher, mother, daughter, and survivor, I needed this book. You do, too."
–Jill Christman, author of Darkroom: A Family Exposure
Tour Schedule:
Thursday, Jan 16: 5:30-7:30 p.m. Denver Woman's Press Club. It's No Conundrum: Bringing Rocky Mountain Voices to the Nation. Conundrum Press Reading at the Denver Women's Press Club: Kathy Winograd, Robert King, Eleanor Swanson, and David Rothman, followed by Q & A with Caleb Seeling.
Monday, January 27: A discussion of Kathy Winograd's essay, "Bathing," and a shout out for her collection, Phantom Canyon, will be featured on Essay Daily by Jill Christman, winner of the AWP  Award Series in Creative Nonfiction for Darkroom: A Family Exposure.
Thursday, Feb 6: 7 p.m. at Boulder Bookstore: Conundrum Press Reading, featuring Kathy Winograd, Mike Henry, Robert King, Robert McBrearty, David Rothman
Saturday, Feb 8: 11-12:30 p.m. The National League of American Pen Women Denver Chapter will be hosting a Lyric Essay Workshop and Reading with Caleb Seeling, Conundrum Press, for Q and A
Wednesday, Feb 19: 2 p.m. & 6:30 p.m. Arapahoe Community College Book signing with Jeff Broome at Arapahoe Community College's Library, Main Campus
Saturday, March 1: 4:30-5:45 p.m. Beyond the Gild: Lyric Imperatives in the Personal Essay AWP 2014 Conference: Seattle Panel with Kathryn Winograd, Robert Root, Steve Harvey, Laura Julier, and Jocelyn Bartkevicius. Room LL5, Western New England MFA Annex, Lower Level
Wednesday, March 12: 11:00 a.m.-12:45 p.m. at the Tivoli 640: " New Books" reading for Auraria Writers' Week. Five local Denver creative authors will read from their recently published works of poetry and prose: David Boop, Theresa Crater, Andrew McFadyen-Ketchum, Kathryn Winograd, and Leslee Rene Wright. This exciting showcase of talented Denver creative writers is a must for those interested in the state of local creative writing.
Saturday, April 5: Denver Woman's Press Club poetry month event: Kathy Winograd workshop on "Broken Art: Poetry and the Lyric essay." Saturday brunch at the Denver Women's Press Club Time TBA
Saturday, April 12: Kathy will be part of the Longmont Library Festival 2014, Colorado Author Open House from 1:00 to 3:30.
Saturday, April 26: Denver Woman's Press Club Poetry Event. Denver Woman's Press club. Time TBA
Sunday, April 27: 2014 Meet the Faces – Colorado Author Open House at the Englewood Public Library. Time TBA.
Sunday, June 29: 6-7 p.m. on air Poetry Show 88.9 FM  FT Collins on Poetry and the Lyric Essay: Kathy Winograd 
About the Author:
Kathryn Winograd has been the recipient of a Colorado Book Award in Poetry for Air Into Breath, a Colorado Artist Fellowship, a Rocky Mountain Women's Institute Associateship, and a Colorado Endowment for the Humanities Grant. She is a three-time Pushcart Prize nominee, received a Special Mention for Pushcart Prize XXXVIII, and a Notable Essay in Best American Essays 2011. She is the author of three teacher reference books, including Stepping Sideways Into Poetry (Scholastic). Her poetry chapbook, one bird tilted, is one of 22 semi-finalists out of 220 submissions for the Grayson Books Chapbook contest, Edwina Trentham, judge. (Decision pending.)
Winograd received her Ph.D. in Literature and Creative Writing from the University of Denver, and a M.F.A. from the University of Iowa. She is a full time faculty member for Arapahoe Community College, where she directs the Writers Studio, and is on faculty for core poetry and nonfiction in Ashland University's low residency MFA program in Poetry and Creative Nonfiction.
Print ISBN: 978-1-938633-24-9
$12.99 (click below to order the paperback)
(Click below to order the ebook)
For review copies and press info, contact Caleb Seeling at caleb@conundrum-press.com.
Tags:
books
,
creative non-fiction
,
essays
,
non-fiction
,
Winograd